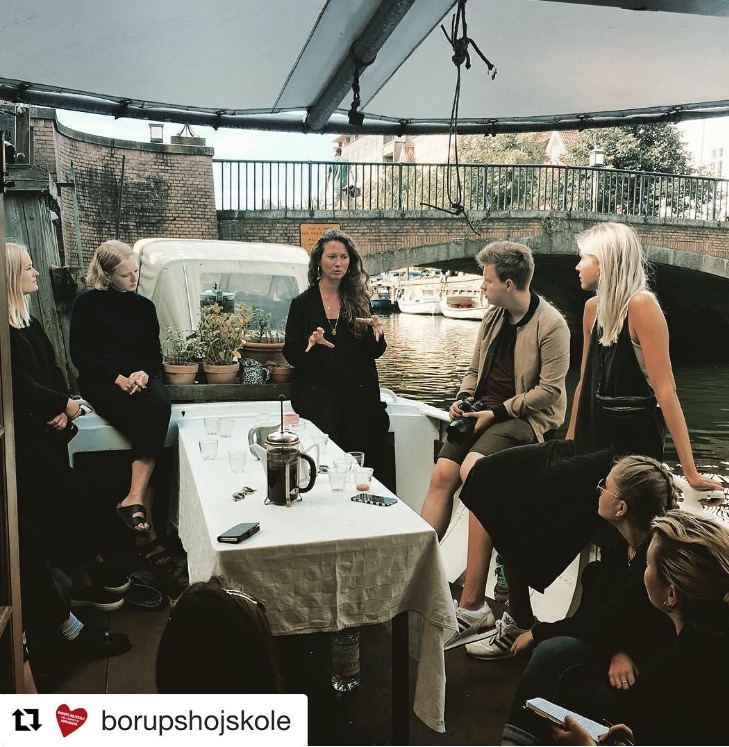 Lecturing students from Borups Højskole in Copenhagen
Students from the subject MY OWN BOSS at Borups Højskole came by our floating office in the canals of Christianshavn in Copenhagen to get to know about how Cecilie turned out to be the gender sociologist she is today.
You can also watch a small video from the visit here:

MY OWN BOSS is a subject at Borups Højskole created by artist Anika Lori. The subject gathers a group of students, and together we visit different kinds of individuals – the ones who went to the good schools, but also the self-taught, who have learned by doing or in other ways, have reached their personal goals. The purpose is to hear their stories from childhood until today, and to get an insight on how they got to this point in their career. Furthermore, Anika thought she would show the students not just one, but several truths – the fact that there are more than one way to reach your goals. It isn't the end of the world if it happens that you are not entering the "right" school. Several of our visits have proven exactly that, because we have payed attention to many different, but yet inspiring stories. The students have been very supportive to this subject, which isn't surprising, because this exactly is the kind of "student counselling" which is inspiring and which starts our thoughts about our own lives. The subject also gives a unique opportunity to meet individuals who have fought to reach their dreams, which in most cases have matched our own personal dreams. These inspiring meetings conclude in a portfolio at our homepage of My Own Boss, made by the students. This is our opportunity to show that we are our own bosses, and only the beginning to become it in the real world.